Alliant Energy champions volunteers who advocate for inclusivity and diversity in the communities we serve, like Kelly Jo Hadfield in Platteville, Wisconsin.
"I was raised amongst people who advocated for things; it's really all I know," said Hadfield. Her parents were active volunteers at church, in after-school programs, for community fundraising and more. "My parents showed me that you never stop advocating, finding resources and looking for answers. You just don't stop."
It became clear what kind of causes would most need Kelly Jo's efforts when she and her husband Mike became the parents of two sons on the autism spectrum. Her passion became, as she describes it, "Making accessibility the new normal."
Over the last decade, Hadfield, who works as the assistant director of the student center at UW-Platteville, has used her energy for a number of organizations and causes related to accessibility for people with special needs.
These days, the project at the center of Hadfield's volunteer efforts is also a big undertaking for the city of Platteville, in partnership with the nonprofit Inspiring Community Inc. Hadfield is a committee member, fundraiser and adviser for a new inclusive playground under construction at Smith Park in Platteville, scheduled to open in June 2023.
Inclusive playgrounds are designed to be accessible for people with a variety of abilities. The new playground at Smith Park will include equipment that's accessible for wheelchair users, and play options will include sensory and musical play. Even the playground's color scheme was designed to support users who are color blind, visually impaired or have ADHD.
"The City believes this playground provides such a unique opportunity to anyone that it is truly a destination experience," said Robert Lowe, Director of Parks & Recreation for the City of Platteville.
"When it's complete, the size, scope and the overall design presents a place like no other in southwest Wisconsin. You really must see it, and play on it, to appreciate just how special it is."
To help make the playground possible, Kelly Jo and her husband organized a community art sale that raised over $11,000. The Hadfield family personally raised an additional $6,000 for playground expenses. In her fundraising letter to friends and family, Hadfield wrote, "Inclusive playgrounds are intentionally designed for physical and social inclusion and to break down barriers that prevent everyone from being able to interact in one space."
In addition to fundraising, Kelly Jo has been involved in everything from canvassing Platteville with flyers about the playground to providing suggestions and feedback to the rest of the design committee on what to include and why. The playground is expected to open this spring, as soon as the weather is warm enough to finish the remaining elements — but Kelly Jo and the other organizers haven't stopped fundraising and promoting.
For Hadfield, the importance of the playground isn't just about having a spot for her kids and other differently abled kids to play. She knows inclusivity has a positive impact for everyone. She has observed how interactions with her own kids encourage their typically developing peers to be kinder, more accepting and more compassionate.
"Having all differently abled people enjoying it together promotes a lot of exposure to differences," Hadfield said. "For my children and other children with disabilities, I want them to be playing side-by-side with their peers, because not only are my children going to gain from that, all individuals are going to gain from having a play environment for all kids."
Alliant Energy applauds Kelly Jo's efforts to put her energy to work for her community to build a more welcoming and inclusive community where everyone can feel like they belong.
About Hadfield's cause: For more information about the Platteville Inclusive Playground, including how you can visit or donate to building expenses, visit the city's website.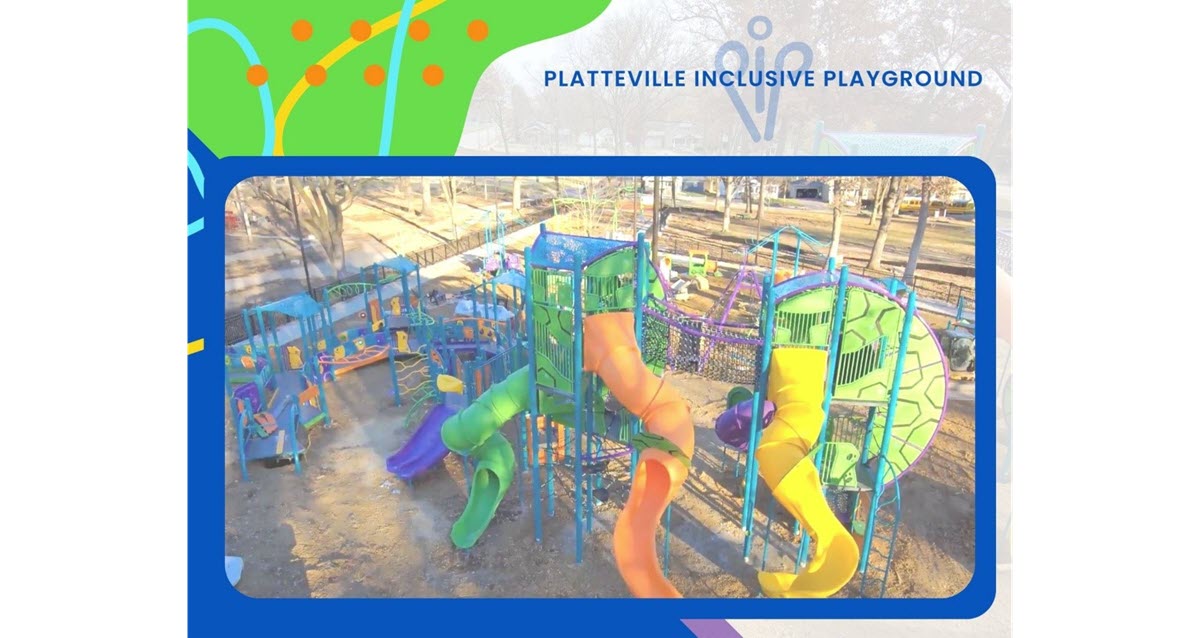 Caption: Progress on the Platteville Inclusive Playground, as of the end of 2022. Photo provided by Christina Burr.