Landlord Portal
As a landlord, you've got lots to manage. The Landlord Portal – accessible in My Account – is for you!
View all properties listed in your Landlord Property Agreement.

See if service is listed in your name or a tenant's.
Check if meters are on or off.
Process payments for multiple properties at one time.
Choose which properties will have service automatically revert to your name between tenants.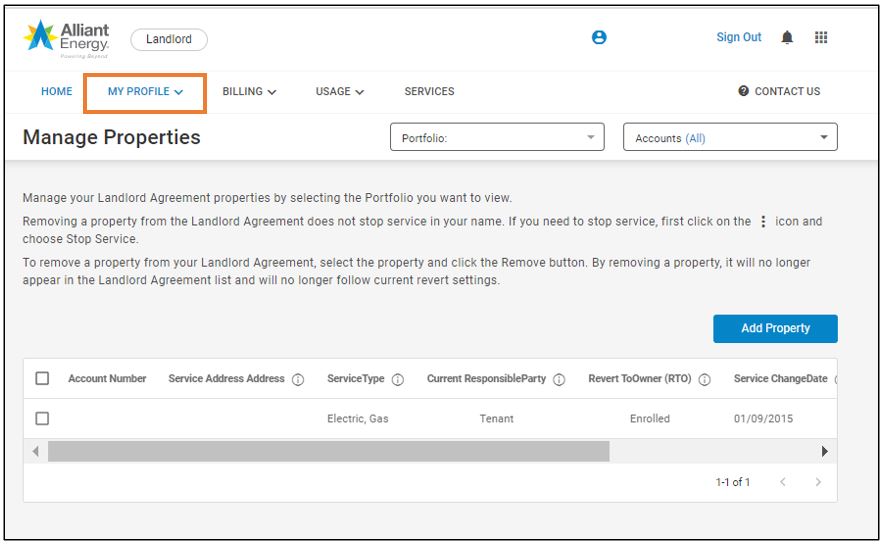 See the Landlord Portal page for quick-start guides and FAQs – including Groups, Revert to owner settings, and more.
Get started now!
To access the Landlord Portal, you'll need two things: A Landlord Property Agreement and My Account.
i need a landlord property agreement
Need both My Account and a Landlord Property Agreement? Start with a Landlord Property Agreement.
Additional support
In the Landlord Portal, you can select which properties will transfer (revert) back to your name between tenants. Upon creating a Landlord Property Agreement, any property in the agreement will revert to your name by default. Change this setting in the Landlord Portal or contact Alliant Energy.
Tenants can start, stop or transfer services via My Account. To protect the privacy and security of our customers, only the account holder can start or stop service. Landlords and property managers cannot request these services for tenants or clients.
Let your perspective tenants or clients know an estimate of energy use costs at the property based on the past year's usage.
We offer a large selection of rebates on equipment for multifamily dwellings, including lighting, heating, water heating, insulation and more.
Qualifications
Location of installed measures, upgrades and meter classification will determine whether you fill out a commercial or residential rebate claim form. Pre-registration is required for some rebates, so call us for help at 1-800-ALLIANT (800-255-4268).
Printable tip sheets from Alliant Energy explain how to start service, pay bills, deal with a power outage and more. Post them on your tenant's refrigerator, email them with the lease agreement ─ whatever helps you answer questions before they get asked.
Pick the version that fits how you do business. Both are in PDF format.
To facilitate payments on multiple accounts, we'll store your payment information in our system when you make a payment. You may remove your payment information at any time; just log into
My Account,
click on My Profile, then Payment Information.