Step 1—Submit service application and site plan
Complete and sign a Service Application & Agreement form.
Include a scaled site plan or certified survey map.
Display the location of the building, septic, well and include landscaping design information (retaining walls, proposed decks, patios, swimming pools, etc.) on the plan.
Include easements needed for the extension of utility service.
Mark desired electric and/or gas meter locations. Please note, the preferred meter location must be approved by your Alliant Energy Project Lead (this will occur in step 2).
Please also provide details about future plans on the lot. This communication is essential to eliminate future conflicts.
Please attach and send your site plan, certified survey map, and any additional documents along with your signed application to customercare@alliantenergy.com or call 1-866-255-8234 and enter the zip code of new service to connect with the local Alliant Energy operations office.


Step 2—Engineering review (3-5 business days)
Alliant Energy will review your application then contact you. If a site visit is necessary, the Project Lead assigned to you will schedule time to meet at the property. After the site visit, we will provide you with the cost estimate for service installation.
Step 3—Service line scheduling
Service line installation will be scheduled on an agreed-upon date once all customer requirements are met:
Provide a clear path for installation. Clear a 10' wide path, which includes removing dirt piles, construction material, tree debris, etc. prior to electric and gas installations.
Backfill and grade area. Backfill within 6" of final grade.
Mark all customer-owned underground facilities. Locate and mark or expose all existing CUSTOMER-OWNED underground facilities. This includes invisible dog fence, septic, sprinkler, well, water or gas lines and electric systems. Alliant Energy and its contractors are not to be held responsible for damage to CUSTOMER-OWNED facilities that are not located or have been mismarked.
Submit proof of electrical inspection, if applicable. Inspections are an important part of ensuring safety and compliance. This service is provided by the local city, town, village, or state electrical inspectors.
Install foundation bracket, if applicable. To comply with Iowa rules and regulations, Iowa customers requesting gas service must have their contractor install a foundation bracket. This ensures the safety and support of your meter by securing it down.
Payment, if applicable. Make the required payment for the service line installation. Winter construction charges are included December 1 through March 31.
When requirements are complete notify your Alliant Energy Project Lead or call 1-866-255-8234.
Step 4—Service line installation (10-15 business days)
Alliant Energy crews will go out and install your service line once all the above requirements are met.
Step 5—Meter installation requirements
Submit a Gas Piping Statement and/or Electrical Inspection to your Alliant Energy Project Lead, if applicable.
Gas Piping Statement: This service is provided by your contractor who tests the pipe.

Gas piping statement

Electrical Inspection: This service is provided by the local city, town, village or state electrical inspectors (this may have already been submitted prior to service line installation).
Mark and label meter positions. For multiple meter installations, each meter position will need to be marked with the address or unit number of the location served on the outside of the socket or by the breaker. This marking will also need to be placed on the corresponding distribution panel(s). The external marking will need a permanent self-sticking brass or engraved rigid plastic label with minimum ½" block letter or numbers. A permanent marking will also need to be inside the meter-socket base in a visible location when the cover is removed.
Step 6—Meter installation (1-2 business days)
Once all the above steps are complete and you have notified Alliant Energy, we will install your electric or natural gas meter.
Frequently asked questions
Cost depends on many variables. This can be discussed with your Project Lead.
Winter construction adds to the time of installation and creates added wear and tear on equipment.
In Wisconsin, by regulatory mandate, winter charges are in effect December 1 – March 31 each year.
In Iowa, winter charges are applied during frost conditions.
It depends on the time of year, workloads, and outages due to weather events. Timeframes also depend on the project complexity.

Electric meters: Near the closest electric pedestal, transformer or pole is usually best. Please work with your Alliant Energy Project Lead to determine best location.
Gas meters: Three feet from front corner of house is preferred. Please work with your Alliant Energy Project Lead to determine best location.
We assign a Project Lead once your application has been submitted. They will provide ongoing project communications.
Meter locations are determined.
Future and existing conflicts are discussed.
Route and installation method are determined.
You or your contractor should be present if you have questions, concerns or conflicts to discuss.
Underground is popular and required in some cases. Work with your Project Lead to determine the best option.
Alliant Energy will install a meter after receiving an inspection for electric or piping statement for gas.
Where do I find my Alliant Energy account number?
Your account number is located on your estimate. Please see the example below.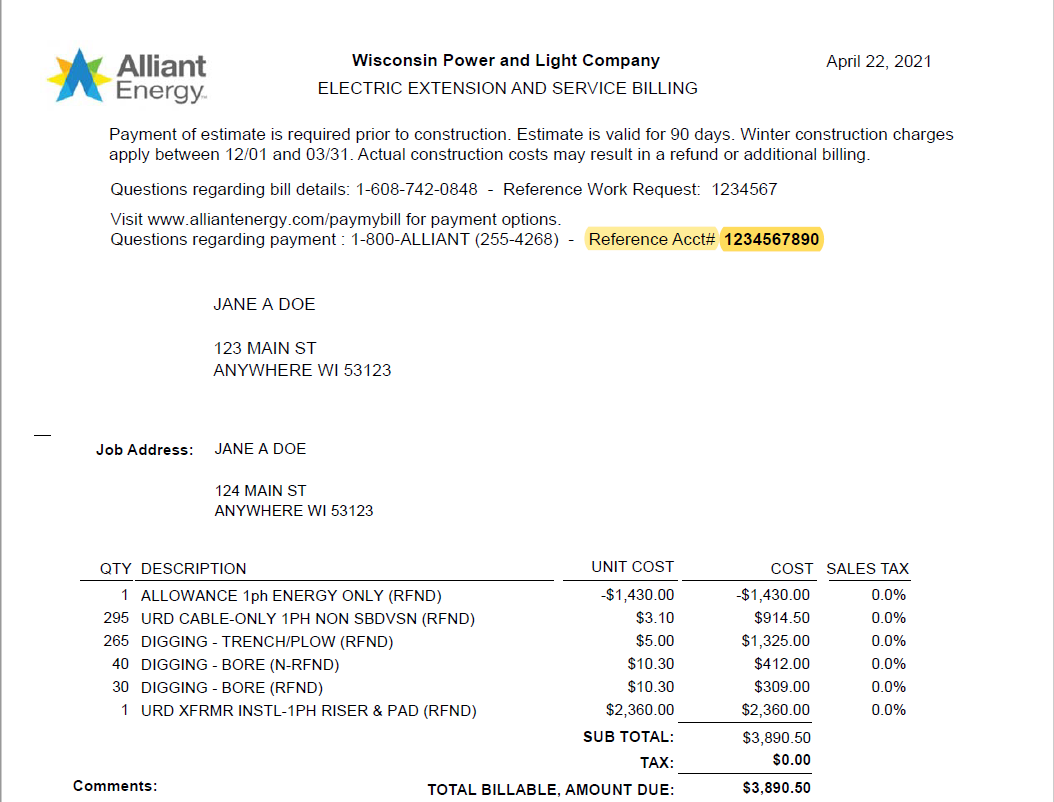 What zip code do I use?
Please use the zip code associated with the credit card or bank account you are using to make the payment.
Why don't I see a balance due?
If you are not seeing a balance due, you have received an estimate for the work to be completed. The balance is not applied to your account until all requirements, including payment for your estimate, are met to proceed with construction. Please click OK when prompted to continue. Please enter the total amount due found on your estimate to make your payment.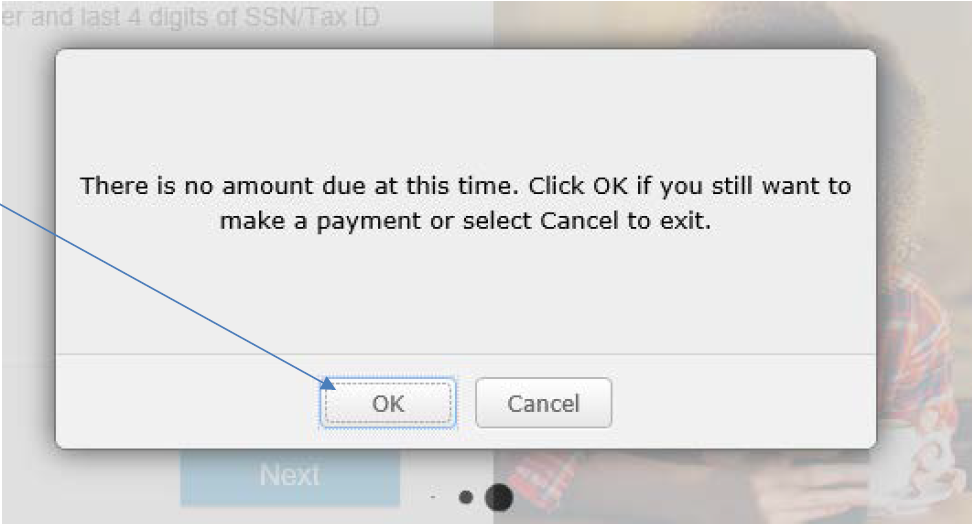 Why won't the system accept the last four digits of my social security number or my tax identification number?
It is likely you did not provide this during the application process. Please call us at 1-800-ALLIANT (800-255-4268). Provide us the number to pay online or pay while you are on the phone with us.
If I am paying with a credit card, what is the limit I can pay?
For residential customers, the limit is $4,000 per transaction and/or per month.

For business customers, the limit is $10,000 per transaction and/or per month.
If your bill amount is above the limit, please pay with your savings or checking account or call us at 1-800-ALLIANT

(800-255-4268)