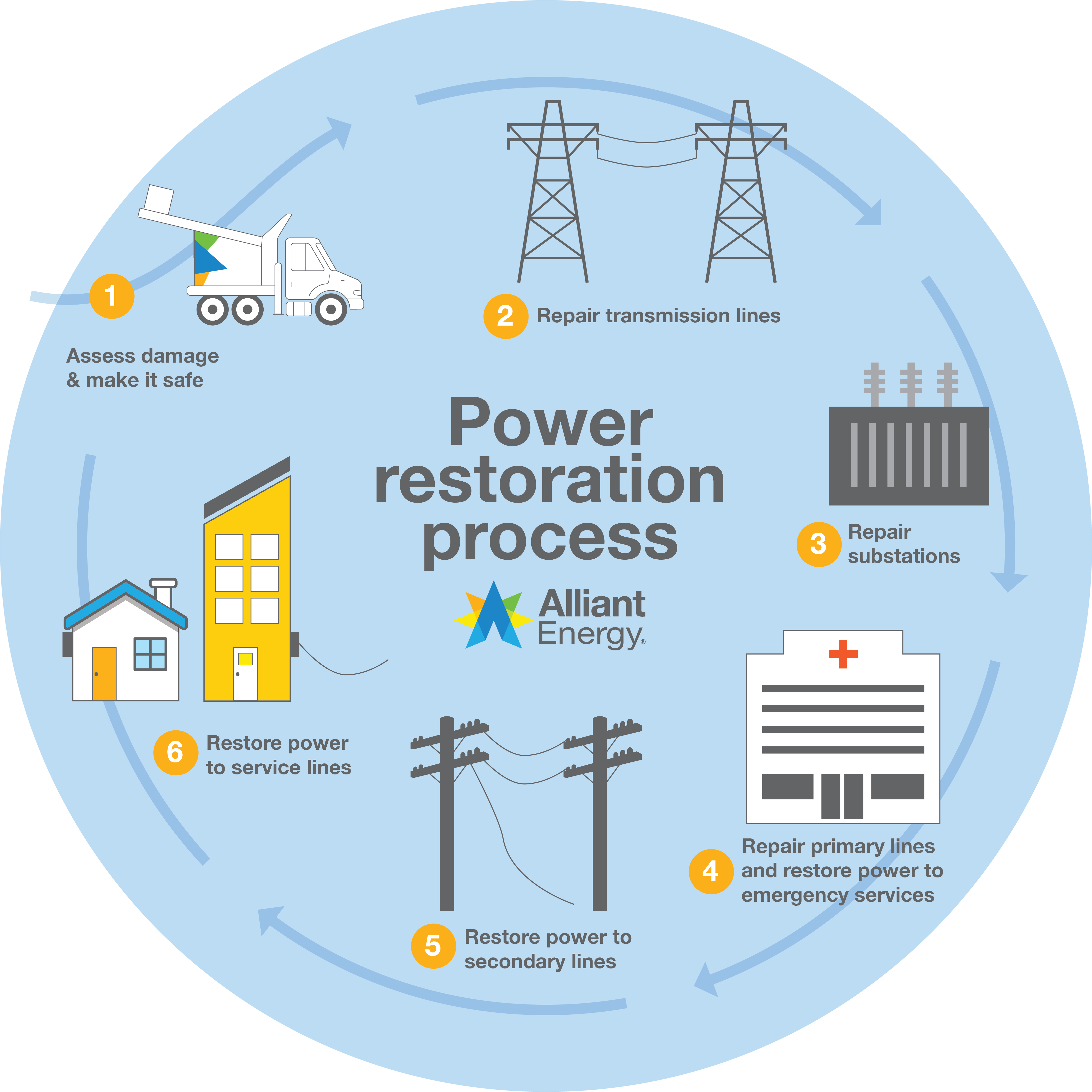 Assess damage and make it safe
Alliant Energy determines how widespread the outage is, which communities are impacted and what resources (crews, trucks and equipment) we'll need to fix it.

Storms can cause power lines to fall onto roads and create electrocution hazards. We send crews to take care of downed wires and enlist local authorities to block dangerous streets to keep the public safe.

Repair transmission lines
The transmission system is the backbone of the electric grid. High-voltage transmission lines carry electricity from our generation sources (like a wind farm or a natural gas plant) to local substations. We coordinate with the transmission company to address any damage to transmission lines.
Repair substations
Substations take the high-voltage electricity from transmission lines and reduce it so it's safe for neighborhood use. We must address problems at substations before we can restore power.
Repair primary lines and restore power to emergency services
Primary lines take electricity from the substation and carry it throughout your city. Once we restore primary lines, we restore power to emergency and essential services like hospitals, police stations, fire departments and water facilities.
Restore power to secondary lines
Power is one step closer! Now we restore the secondary lines that bring electricity to your neighborhood. These lines may be visible alongside the road or buried underground.
Restore power to service lines
This is the last and longest step. Service lines receive power from secondary lines through a transformer, then connect to your individual home or business.
NOTE
When this process is complete, your home may still be without power. For customers with backup generation, make sure you have the proper disconnect switch. Otherwise, it means there is damage to your home's electrical system. You will need to contact a licensed electrician.
If we need to shut off your natural gas, our technicians will do so safely and gas will remain off until we make system repairs.
Do not shut your own gas off or try to turn your own gas on.
Once repairs have been made, our technician will come to your property to turn your gas back on at no charge. Alliant Energy employees carry badges with photo identification.
Our technician will need access to relight your pilots: stove, water heater, furnace, fire place, etc. An adult (18 years and older) must be present for our technicians to enter a home.
If you are not home when we come to relight, we will leave a message on your front door or garage door to call us at 1-800-255-4268 for an appointment.
Are you going to remove the downed trees on my property?
No. Trees that fall during a storm are the responsibility of the property owner. When damaged trees and broken branches are tangled with electric lines and broken poles, we bring in tree-trimming crews to free the lines and allow them to be repaired; we do not remove the debris.
You own some of the equipment that brings electricity into your home. If any of these items is damaged, call a licensed electrician to fix them immediately. These repairs must be done before our crews can restore your service. Our crews cannot repair customer equipment.
Power blinks 
Have you ever come home to find your digital clocks flashing "12:00"? It's caused by a power blink – a brief interruption that's designed to prevent a longer power outage.

Blinks occur when an obstruction, like a tree limb, comes into contact with a power line or transformer. To prevent damage to the utility system or your home, a circuit breaker interrupts the electricity for a fraction of a second.

If the limb remains on the line, the breaker opens (power is interrupted) and tries to close again. If the obstruction is still on the line after the third try, the breaker opens and does not close automatically.

At this point, a utility worker must be dispatched to remove the obstruction and manually reset the breaker.

Power blinks rarely cause damage to equipment. Older digital clocks and other devices are the most vulnerable to blinks; newer models are designed to ride out these small voltage fluctuations.


Power surges
A power surge is a variation in electrical voltage. Power surges last less than 1/100th of a second and range in intensity depending on the situation.

Up to 80% of all power surges originate within the home - when devices with motors shut off or start up, diverting energy to and from other appliances. Common culprits of internal surges are power tools, refrigerators, printers and hair dryers. Smaller "everyday" surges can slowly destroy your expensive electric appliances - a process called "electronic rust."

External power surges are generally caused by uncontrollable events, such as lightning strikes, animals interfering with electrical equipment, and vehicle accidents with utility poles. Large power surges, such as lightning, can instantly ruin your TV, computer and other electronics.

Is Alliant Energy responsible for power surges?
Most surges are caused by factors outside of the control of telephone, cable and electric utilities. We are not responsible for surges that we do not cause, including those caused by lightning, animals, tree limbs, faulty wiring or surges created within your home.
How can I protect my home electronics from power surges?
The best way to prevent damage from power surges is to invest in high-quality surge protectors. All programmable appliances should be connected to a surge protector, including home entertainment systems, computer equipment and other digital devices.

Also remember that power surges can come into your home through other utility lines as well as electrical, so be sure to connect incoming cable and satellite TV lines, and all telephone lines, including fax and modem.