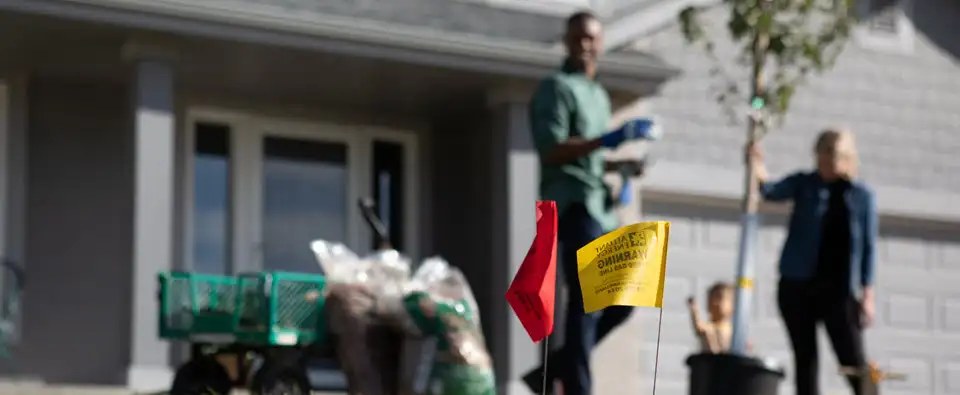 Avoid a disaster: Call 811 and know what's below
The last thing anyone needs is an outage or injury. Keep yourself and your neighborhood safe. Call or click 811 before you dig.
Dialing 811 works from any location. For state-specific numbers call:
Iowa: Iowa One Call
1-800-292-8989
iowaonecall.com
Wisconsin: Diggers Hotline
1-800-242-8511
diggershotline.com
Illinois: JULIE
1-800-892-0123
Illinois1call.com
If you are planning a project that involves digging, trenching, drilling or grading, state law requires you to call 811 at least three days before digging. This is a free service and there are penalties if you dig and hit a line, but did not call. Although accidents are relatively rare, damage from digging is the most common cause of underground natural gas leaks.
Three steps you must follow before you dig:
Call 811 before you dig. 811 is the national phone number that initiates the process of locating and marking the underground utility lines in your yard or at your job. Dial 811 at least three business days before you dig.
Wait the required time for facilities to be marked. Call center personnel notify area utilities such as Alliant Energy to mark the approximate locations of buried gas or electric lines with high-visibility safety paint and/or flags. Yellow paint markings or flags identify the location of buried natural gas pipelines. Red paint markings or flags identify the location of buried electric lines.

Locators will not mark privately owned fuel lines, like those running to a garage, pool or fireplace.
Respect the marks, then dig with care. When you start digging, try to stay as least 18 inches away from the marked lines. Hand digging with extreme caution is required when digging within the 18-inch tolerance zone.
For more information on 811, visit the national 811 website or contact your state's local center.
Do:
Stop work and move to a safe location.

If gas is blowing… Call 911 immediately!

Call 1-800-ALLIANT 

(800-255-4268)

 from a remote location.
Leave the area and alert others to stay away.
Keep the public and traffic away.
Do not:
Do not try to find or repair the leak.

Do not start an engine or move equipment.
Do not operate a pipeline valve.
Do not use a telephone or cell phone in the area of the leak.
Do not turn on or off any light switches, garage door openers or other electrical switches.
Do not attempt to extinguish a burning gas leak.
Natural gas pipelines have exceptional safety records, but on rare occasions incidents do occur. If a natural gas pipeline is damaged, the natural gas may:
escape into the air
migrate into nearby structures, sewer systems and under frost caps
possibly ignite
Call 1-800-ALLIANT (800-255-4268) if your digging equipment or tools contact our natural gas pipelines or electric lines. Even minor damage, such as nicks, scratches, dents or gouges, can result in a pipeline failure, electric shock or major incident such as an explosion hazard resulting in injury or death and severe property damage if not properly assessed. If you smell or hear blowing gas, go to a safe, remote location and call 911 immediately.
Natural gas pipelines run throughout your community in residential, commercial and even rural areas. The National Transportation Safety Board says pipelines that bring natural gas to homes and businesses are the safest method of transportation for natural gas.
How natural gas reaches your home
Natural gas comes from the earth. It travels to your community through underground transmission pipelines.

Once the natural gas reaches your community, it passes through a gate station. Here, the local distribution company, such as Alliant Energy, reduces the pipeline pressure and distributes the gas to customers.

The underground pipelines within your community are called "mains" and are typically buried under or along streets. From there, a smaller service line brings the gas to your meter. Service lines are buried in yards.

After the gas passes through a meter, it belongs to the customer. Customers are responsible for installing and maintaining the piping that natural gas flows through to reach appliances and equipment.
Pipeline Markers
Utility companies use markers to show approximately where transmission pipelines run underground. Pipeline markers are typically placed at public road crossings, fence lines and street intersections.
Color and format vary, but all markers provide the pipeline content, operator name and contact phone number. In most cases, pipeline markers are not located on a natural gas distribution system inside urban service territories.

Visit the National Pipeline Mapping System at npms.phmsa.dot.gov to learn who operates pipelines in your area.

To learn about our integrity management program or other natural gas pipeline safety topics, call 1-800-ALLIANT (800-255-4268) or visit alliantenergy.com/pipelinesafety.
Economic Development support
Our Economic Development team is dedicated to helping your business succeed.
Visit Economic Development
Energy Analytics Self-Service Audit
Energy Analytics is an online analytics tool that identifies money-saving opportunities tailored just for you.
Get started with Energy Analytics
My Account for your business
Spend your energy on things that matter! Sign your business up for My Account, our online self-service tool, and enjoy benefits designed to simplify your life.
Learn more about My Account