Julie Kraft wears many hats. Whether she's crafting a new communication plan for a client, attending an Ed Sheeran concert with friends, spending quality time with her family, or coordinating the latest community project in Cedar Rapids – it's safe to say she stays busy. But Kraft has a different way of describing her day-to-day.
"My brain is kind of like a computer screen where you have a hundred tabs open all the time," she said recently with a laugh.
Kraft, 58, has been using her energy as a self-professed "community cheerleader." She runs her own communications business while serving on various local committees and boards such as ConnectCR and the Revival Theatre Company.
Kraft is passionate about helping make the community a better place.
"I naturally like people who ask, 'What can I do to make this even better?'" Kraft said.
One big community project she's currently a part of is ConnectCR; the largest public/private partnership in Cedar Rapids' history.
The project will transform Cedar Lake by adding accessible canoe launches, a challenge/obstacle course, kayak launches, and fishing piers, among other new amenities.
Part of this project includes restoring a washed-out railroad bridge, destroyed during the historic 2008 flood, with a new, LED light-up, pedestrian-bike bridge [the Alliant Energy Lightline]; connecting both sides of the city – more specifically the NewBo and Czech Village neighborhoods.
"It's going to really open up more free outdoor recreational opportunities," Kraft said. "It opens it up for everyone. Four people can walk and bike it – if someone has a disability, it's going to be so much easier for them to get to Cedar Lake and around Cedar Lake."
The new bridge will be named the Alliant Energy LightLine; reflecting the lights on the bridge's rails powered by Alliant Energy, who donated $1 million to ConnectCR last year.
"That was a huge moment," Kraft said.
She said what fills her with pride and happiness is seeing such a wide array of the community some together to accomplish these initiatives.
"It's people from all walks," Kraft said.
Kraft may lead a busy life, but she said the rewards that come from making lasting, positive impacts on the community, and on people, make it all completely worthwhile.
"I've really done a lot, already, in my life," she said. "When I look back at my time doing all this, my greatest pride comes from seeing the people I worked with and coached succeed."
Getting involved in the community is essential for everyone, Kraft says.
"Find your passion and get involved," she said. "Everyone should be involved in some way; [our community] is dependent on that. We need people to do that.
"Looking forward, my hopes are just two things: One, to make wherever I am be better than it was; and two, inspire others to also be better.
This story was reprinted with permission from, and in partnership with, The Gazette, Cedar Rapids.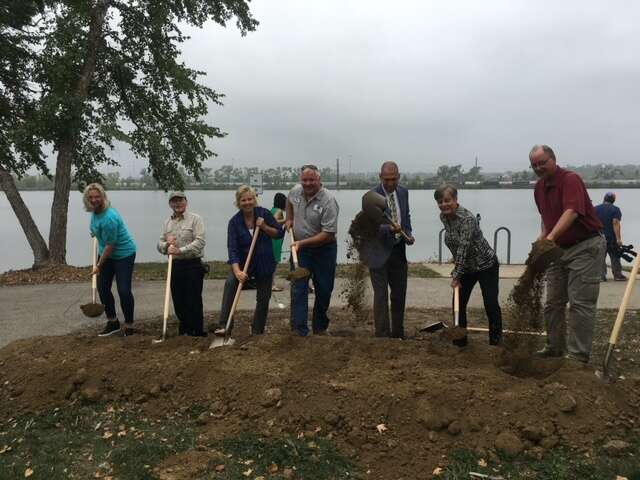 Photo caption: How does Julie Kraft use her energy? She helps with Connect CR, a project that will transform Cedar Lake in Cedar Rapids, Iowa, into a place with accessible canoe launches, a challenge/obstacle course, kayak launches and fishing piers, among other new amenities. Here she is pictured with officials at a groundbreaking in 2021. (Photo courtesy of The Gazette)