Commercial buildings come in many different shapes and sizes, but what type uses the most energy? According to the U.S. Energy Information Administration's (EIA) data, the three biggest users in terms of energy consumption per square foot are foodservice facilities, grocery stores and hospitals. The following table breaks it down.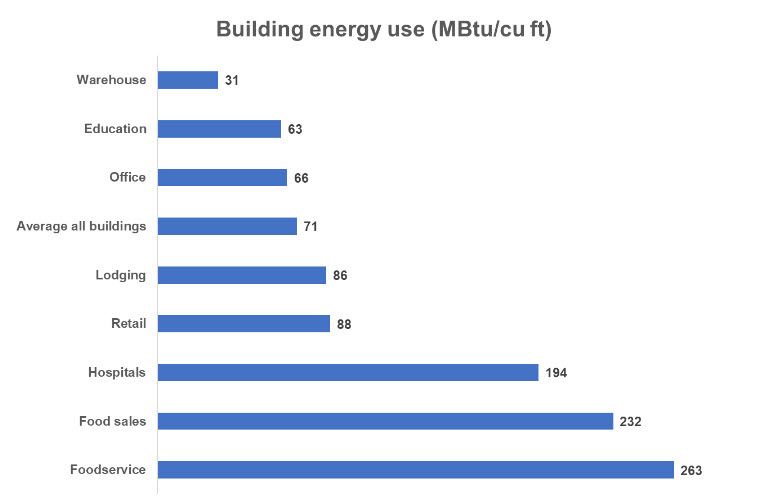 Buildings are becoming more energy efficient
The EIA conducted its first building energy survey in 1979. At that time, commercial buildings' average energy use was 115 thousand British thermal units per cubic foot (MBtu/cu ft). In the 2012 Commercial Building Energy Consumption Survey, released in 2015, the average was 80 MBtu/cu ft.
In the recently released 2018 survey, that number dropped to 71 MBtu/cu ft. That's an 11% reduction since 2012, and 38% since 1979.

Make your building more energy efficient
Though every building is different, here are simple ways to improve the energy efficiency of any facility. Take these steps now to save money, improve comfort and demonstrate your organization's commitment to sustainability.
Get an HVAC tuneup. Have a qualified professional clean and inspect your heating and cooling systems once a year to extent the equipment's life and keep it running in top form.
Weatherize your building envelope. Hire a contractor to properly seal your windows and doors and ensure your building is well insulated to the recommended levels for your climate zone.
Use properly tuned building system controls. Install and utilize system controls to reduce energy use based on occupancy and operating schedules. Remember to adjust settings based on changes in weather, operating schedules and other factors to avoid wasting energy.
You can also take advantage of our free energy audits. We offer this service to help our commercial and industrial customers optimize energy. An advisor assesses your facility's energy use and provides targeted recommendations to improve efficiency and reduce operating costs.

Free online energy dashboard
Our online analytics tool identifies money-saving opportunities just for you. Use it to become your own energy manager and track:
Bill and usage trends.
Usage breakdowns in hourly increments by application.
Weather impacts.
It's easy to access your facilities' energy dashboard.

1. Sign in or enroll in My Account.

2. Select "My Profile," then "Energy Analytics."

Do your part to ensure today's buildings continue to become more energy efficient and sustainable.